World War II Destroyer Escort (DE) Sailor Interviews
Sound Underwater Survey and Terramar Productions are working together to capture video interviews with DE sailors who were onboard the USS Joyce, USS Peterson, and USS Gandy during the April 16th, 1944 conflict with the U-550. This project is in association with the teams "Search for the U-550".
While researching the sinking of the U-550, expedition leader Mark Munro began interviewing DE sailors present during the conflict.  These interviews sparked a deep interest in permanently capturing the stories of these sailors for future generations to benefit from.
"the more I dug into this [U-550 sinking] and began talking to the DE Sailors the more and more I've been touched with the "big picture" of what these guys were doing.  Not having any previous contact with WWII vets I didn't have a really good appreciation for what they were out there doing and the sacrifices they'd made.  Sitting down and talking with these guys really brings home why they are "True American Heroes".

– Mark Munro, in a letter to expedition team members
To date seventeen sailors have been interviewed over the phone, three of these sailors have been interviewed on camera, and another fourteen remain to be interviewed in person.
Here is a short composite video of the three sailors interviewed at the September 11, 2011 Destroyer Escort reunion in Plymouth Meeting Pennsylvania: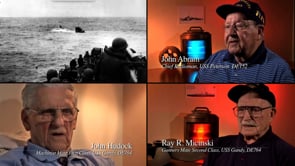 In order to continue this project the team will be visiting Virginia, West Virginia, California, Oklahoma, South Carolina, Florida, Texas, Tennessee, Alabama, and Mississippi. The travel costs involved are extensive and to date have been fully funded my Mark Munro.  Your monetary contribution to this project would be greatly appreciated, you can use the link at the bottom of this web page to make an on-line donation. These men are in their late eighties and early nineties, time is of the essence!
What will be done with the interviews?
The interviews generally last one hour and the questions cover the time period from entry into the service to discharge and includes current information on their families.  Each interviewees family receives a DVD of the full interview, portions of the interviews will be used in a future documentary on the U-550, the full interviews will also be submitted to the Library of Congress for archival purposes and public access.
How will the money be used?
All monies collected will go towards travel expenses incurred while conducting the interviews.  Should there be funds left over at the completion of the project a portion will go to Terramar Productions for payment of services rendered. Terramar Productions is currently working gratis, is fully committed to this project and the humanitarian/historical collection of this information, and is not expecting reimbursement.
Please help today to preserve history.